Registration for the 2021 SSAWW Conference is now open!
A draft of the conference program will be available in early June for planning purposes. In the coming weeks we will also have additional details on hotel reservations and graduate student travel awards.
SSAWW 2021 Keynote Speaker: Dr. Joyce J. Scott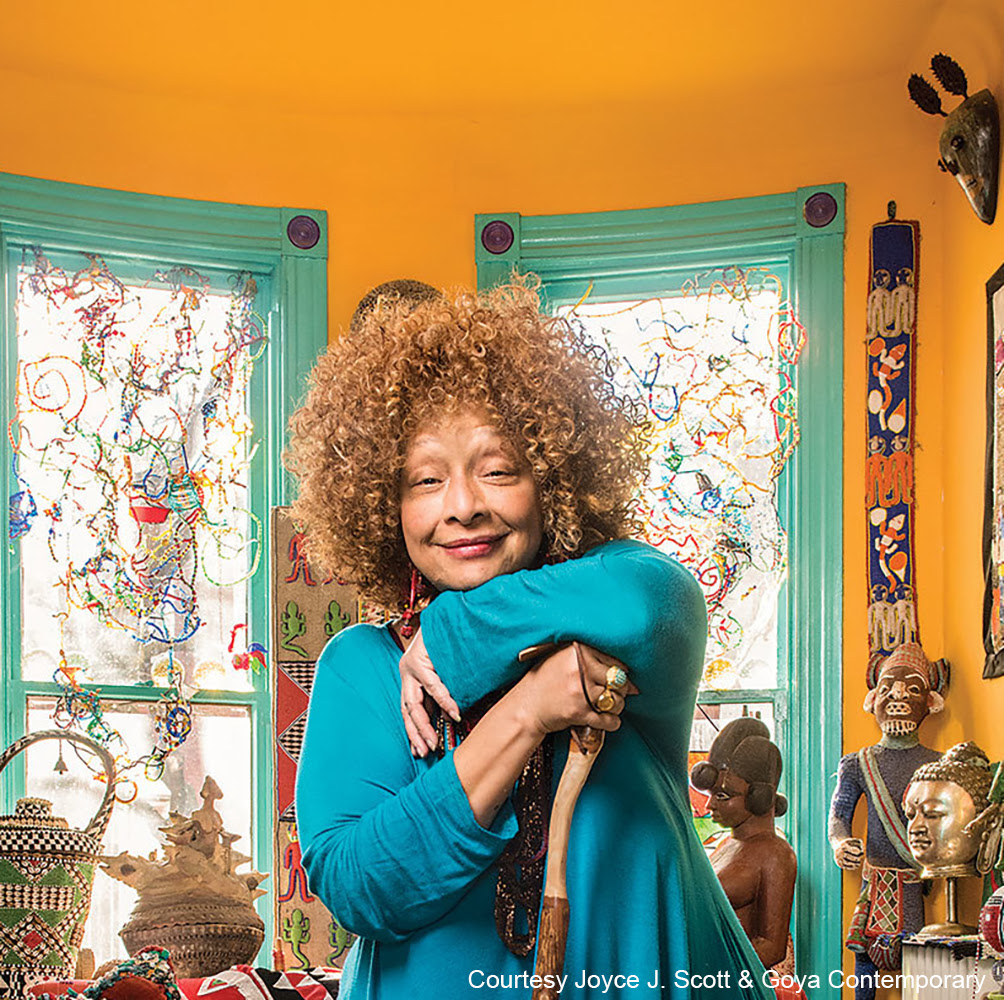 "I'd like my art to induce people to stop raping, torturing, and shooting each other.

I don't have the ability to end violence, racism, and sexism. But my art can help them look and think."

—Joyce J. Scott
MacArthur Fellow, Dr. Joyce J. Scott (b. 1948, Baltimore, MD) is best known for her figurative sculpture and jewelry using bead weaving techniques, as well as blown glass, and found objects. As an African-American, feminist artist, Scott unapologetically confronts difficult themes as diverse as her subjects which include race, misogyny, sexuality, stereotypes, gender inequality, economic disparity, history, politics, rape, and discrimination. Over the past 50 years, Scott has also established herself as an innovative fiber artist, print maker, installation artist, vocalist, and performer.
Joyce J. Scott was born to sharecroppers in North Carolina who were descendants of slaves. Her family migrated to Baltimore, where Joyce was born and raised. She earned her BFA from the Maryland Institute College of Art, MFA from the Instituto Allende in Mexico, and was conferred honorary doctorates from both The Maryland Institute College of Art and California College of the Arts.
In 2017, Scott and her primary gallery, Goya Contemporary, opened her largest exhibition to date at Grounds For Sculpture in New Jersey. In addition to historic and recent objects, Scott realized 2 large-scale site-specific works focused on the abolitionist Harriet Tubman, created at the Johnson Atelier. Other major projects include glassworks made at Berengo Glass Studios on the Italian island of Murano, Italy, which were exhibited in the 2013 Venice Biennale collateral exhibition Glasstress, and a major one-person exhibition at the Baltimore Museum of Art. Scott has been the recipient of many commissions, grants, awards, and honors from such institutions as the National Endowment for the Arts, the Louis Comfort Tiffany Foundation, Anonymous Was a Woman, American Craft Council, National Living Treasure, Women's Caucus for the Arts, The National Academy of Design, The Baker Award, MacArthur Foundation Fellowship Award, New York University Fellowship Award, and the Smithsonian Visionary Artist Award. Scott explores challenging subjects, powerfully revealing the equality between materials and practices often associated with "craft" and "fine art." She currently lives and works in Baltimore, Maryland, and is represented by Goya Contemporary Gallery.